VW Volkswagen Volkswagens A1 Rabbit Golf Scirocco Jetta Caddy Cabriolet Karmann Mk1 Watercooled Water Cooled
http://www.badhabitrabbit.com

Archived by Mike Gabriel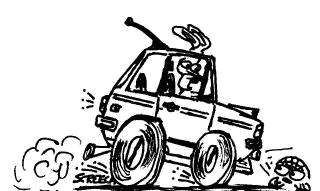 I didn't spend $900 on a rear disc brake conversion so I can NOT run over turtles!
the
BAD HABIT
RABBIT
A Volkswagen Rabbit Page

Brought to you by...


---
Links
Procedures
Buying A Rabbit
Newsgroups
---
A1 Volkswagens in Rock History:
"If you go chasing Rabbits, you know you're going to fall...."
Grace Slick telling Paul Kantner of Jefferson Airplane not to go to the drag strip in his Toyota Supra.
"Kill the Waaabbit. Kill the Waaabbit....."
Elmer Fudd after being beaten in a drag race between his Honda CRX Si and a nicely decked out '83 Rabbit GTi....
"Run, Rabbit, Run..."
Roger Waters of Pink Floyd after successfully cold starting his '82 without the use of a hot wired cold start injector.
"You can't catch me, cause the Rabbit done died..."
Steven Tyler of Aerosmith while escaping from his estranged girlfriend after the '79 Rabbit she was chasing him in, broke down.
"Nobody gonna beat my car, I'm gonna race it to the ground.
Nobody gonna beat my car, It's gonna break the speed of sound."
Ritchie Blackmore getting a little too excited over having installed a G60 in his '84 GTi.
"I've been driving all night. My hands are wet on the wheel."
George Kooymans of Golden Earring is just a tad obsessed with driving his '86 Scirocco cross country.
Rabbit is the name of the first generation, four cylinder hatchback Golf in the United States. The Golf was so named "Rabbit" by VW of America in 1975 (the year of the Rabbit) when it was introduced to the US market to prevent people from assuming that the name "Golf" pertained to the sport of golf (the name is actually German for Gulf and is supposed to be short for "Gulf Wind", as almost all water cooled VW's were named after winds). These first generation Golfs (what we call A1's or Mk Is) were produced from 1974 to '82 in Germany and 1978 to '84 in Westmoreland, PA. The "Rabbit" (now called "Citi Golf") and it's pickup truck cousin, the "Caddy" are still manufactured and sold in South Africa today! Although not the first car of it's size, the introduction of the Golf created a new class of car, the "Compact" and the introduction of the GTi in 1976 (in Europe. GTi's didn't show up in the US until 1983) started the "Hot Hatch" craze that is still popular today!
The Volkswagen Rabbit is a very attractive vehicle (the grand daddy of the Hot Hatch craze) to it's owners due to it's subtle appearance, power on demand (with it's excellent power to weight ratio), nimble handling (often compared to driving "on rails") and ease of maintenance. The basic layout of the engine area and engine itself has changed very little in over 20 years. Parts are very interchangeable and thus readily available and are fairly inexpensive.
---
Links
Procedures
Buying A Rabbit
Newsgroups
---

I'm often asked what books I recommend for Rabbit owners and where to find them. The below books are the ones I can thank for a great deal of information. As a bonus, if you buy one of these books through "The Bad Habit Rabbit" web site, you support the site! Thanks!

Bosch Fuel Management & Engine Management

by Charles Probst

This book is NOT Volkswagen specific, but it's still great and an absolute MUST! It taught me everything I know about troubleshooting the CIS system. There's diagrams galore of nearly all of the Bosch Fuel Injection Systems. It's really a must have for ANY CIS powered car owner and anyone that would like to have a comprehensive understanding of different fuel systems.

Volkswagen Rabbit/Jetta Diesel Service Manual Including Pickup Truck and Turbo-Diesel

by Robert Bentley

This is the original Bentley's Manual for water cooled diesel VW's (excluding Vanagons) from 1977-1984. This book is a must have owners of diesel Rabbits and is a great addition for those with gasoline Rabbits for information on steering, suspension and brakes. Did you know that Bentley's is what the dealer mechanics use for reference?

Volkswagen Sport Tuning

by Per Schroeder

This book is good for one that is just getting into modding their VW and needs some direction. It's especially good for the SCCA racer that needs to know what direction to go next when trying to shave a few seconds off of their times. Fun to read!

Water Cooled Volkswagen Performance Handbook

by Greg Raven

I got this book when it first came out over ten years ago. Fortunately for us A1 users, the book hasn't been updated much since then, either (barring the cover photo which used to be a red A1 GTi)! This book is fun and really covers a lot of important fundamentals.

Chilton's VW Front Wheel Drive 1974-89

Chiltons is typically a pretty cheesy manual. This is because they typically use the same pages from car to car to car to describe things that most well seasoned D.I.Y. folks take for granted. What happens is to the layman, this information may be inaccurate for a specific model car and cause more confusion then it can help solve. So why bother with the Chilton's? The ONLY reason I have Chilton's is for the reference tables. Chilton's manuals have complete lists of engine codes and what cars the engines are used in, tranny codes and fluid capacities. So in a nutshell... Chilton's isn't too hot for procedure, but is an EXCELLENT reference guide for facts and figures.
---
Links
Procedures
Buying A Rabbit
Newsgroups
---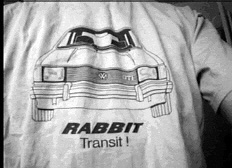 Want to learn how to make your own VW web page?
Want to learn to make frames like this one?
Try THE GREATEST HTML RESOURCE (no lie!) on the net.
WEBHELP.ORG!